Titill

2023 NordVulk Summer School in Iceland 27 August - 1 September 2023 - "Carbon Capture, Utilization and Storage in the Nordic countries"
Text
TARGET: The NordVulk Summer School is primarily intended for Nordic PhD students and post-doctoral candidates, however open to a limited number of international participants. Participants will be selected based on the relevance of the course for their current research activities.
AIM: We aim to bring together some of the world leading experts in Carbon Capture, Utilization and Storage (CCUS) and young scientists at the PhD and postdoctoral level to present and discuss their current research, expand their professional network and promote international collaboration.
SET UP:  The school is divided between lecture and poster sessions alternating with field days with visits to CCS facilities in Iceland. The venue is a remote country hotel allowing for undisturbed, focused interaction between lecturers and students. The language of the school is English. All participants are required to submit an abstract (max 500 words) and prepare a poster on their own research projects related to the school theme.   
Image
Image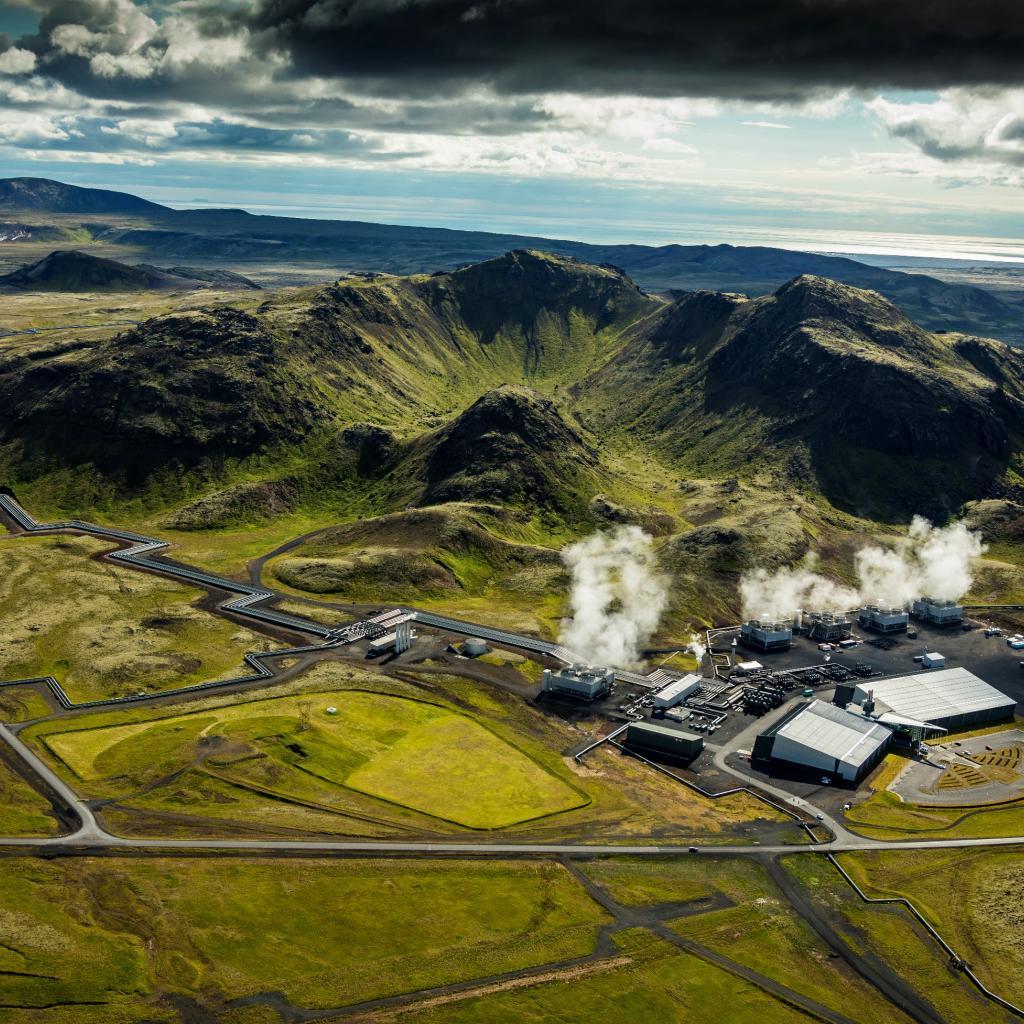 PROGRAM DESCRIPTION: Initially lectures will focus on novel carbon capture and mineralisation techniques, some of them in current operation in Iceland, where captured CO2 is dissolved in fresh water and injected into basaltic rocks, where it mineralizes in less than two years. The lectures are followed by a fieldtrip to the operational Carbfix and Climeworks facilities. In our second lecture session the focus will widen from Iceland to include the remaining Nordic region with lectures on CO2 capture, long distance transport of CO2, supercritical CO2 storage in porous sedimentary rocks, and BECCS (Bio-Energy Carbon Capture and Storage). Our final lecture day 4 will be devoted to discussing alternative solutions, such as storage in the deep oceans, enhanced rock weathering, CO2 capture in mine tailings, production and feasibility of E-fuels and finally the CO2Seastone and Coda terminal projects will be described, followed by a visit to the facilities on the Reykjanes peninsula.
PLEASE REGISTER by sending an email with your abstract to rikke@hi.is. Deadline June 1st, 2023. Successful candidates will be notified by June 15th.
Confirmed lecturers:
Anne Harrison, University of Bern, CH
Adam Malek, Climeworks, CH
Elin Skurtveit, Norwegian Geotechnical Institute, NO
Eric Hermann Oelkers KAUST University, Saudi Arabia
Gry Mol Mortensen, RISE, SE
Johan Byskov Svendsen, Center for Zero Carbon Shipping, DK
Jens Hartmann, University of Hamburg, DE
Michael Larsen, INEOS Energy, DK
Peter Kelemen, University of Columbia, USA
Sigurður Reynir Gíslason, University of Iceland, IS
Sandra Ósk Snæbjörnsdóttir, Carbfix, IS
Sverre Planke, VBPR/CEED, NO
Viola Becattini ETH, CH
Registration for Nordic participants: 400 Euro
Registration for non Nordic participants: 900 Euro
All participants must arrange their own travel to and from Iceland
Organizing committee:
Sigurður Reynir Gíslason, University of Iceland
Rikke Pedersen, NordVulk
Image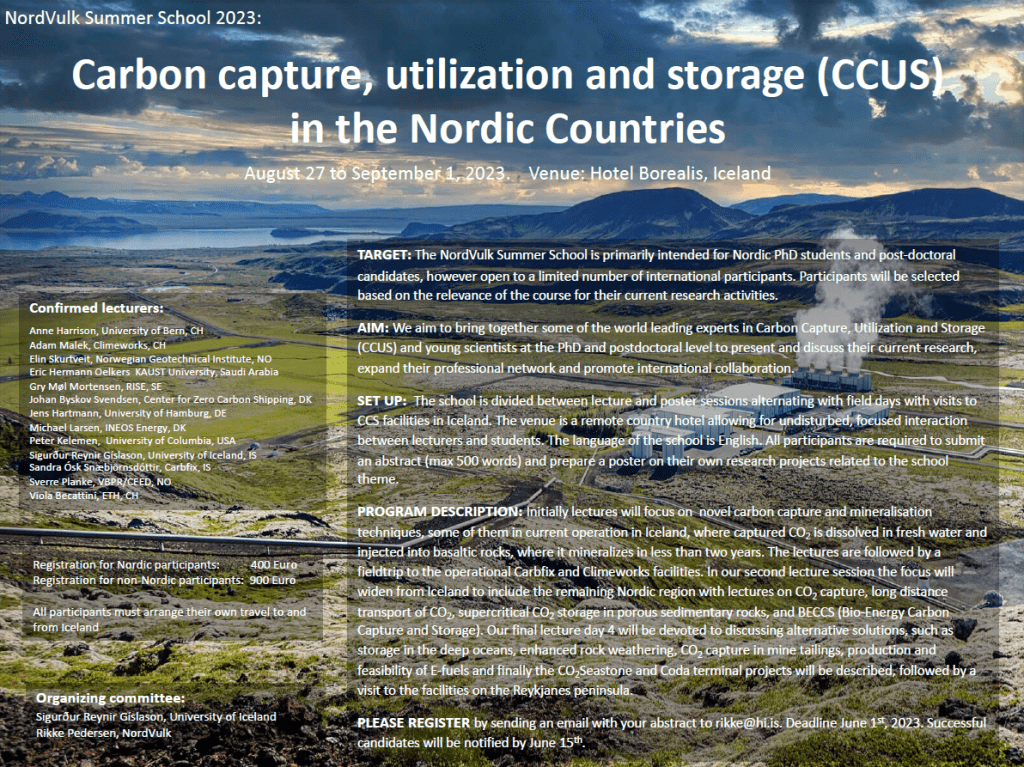 Image